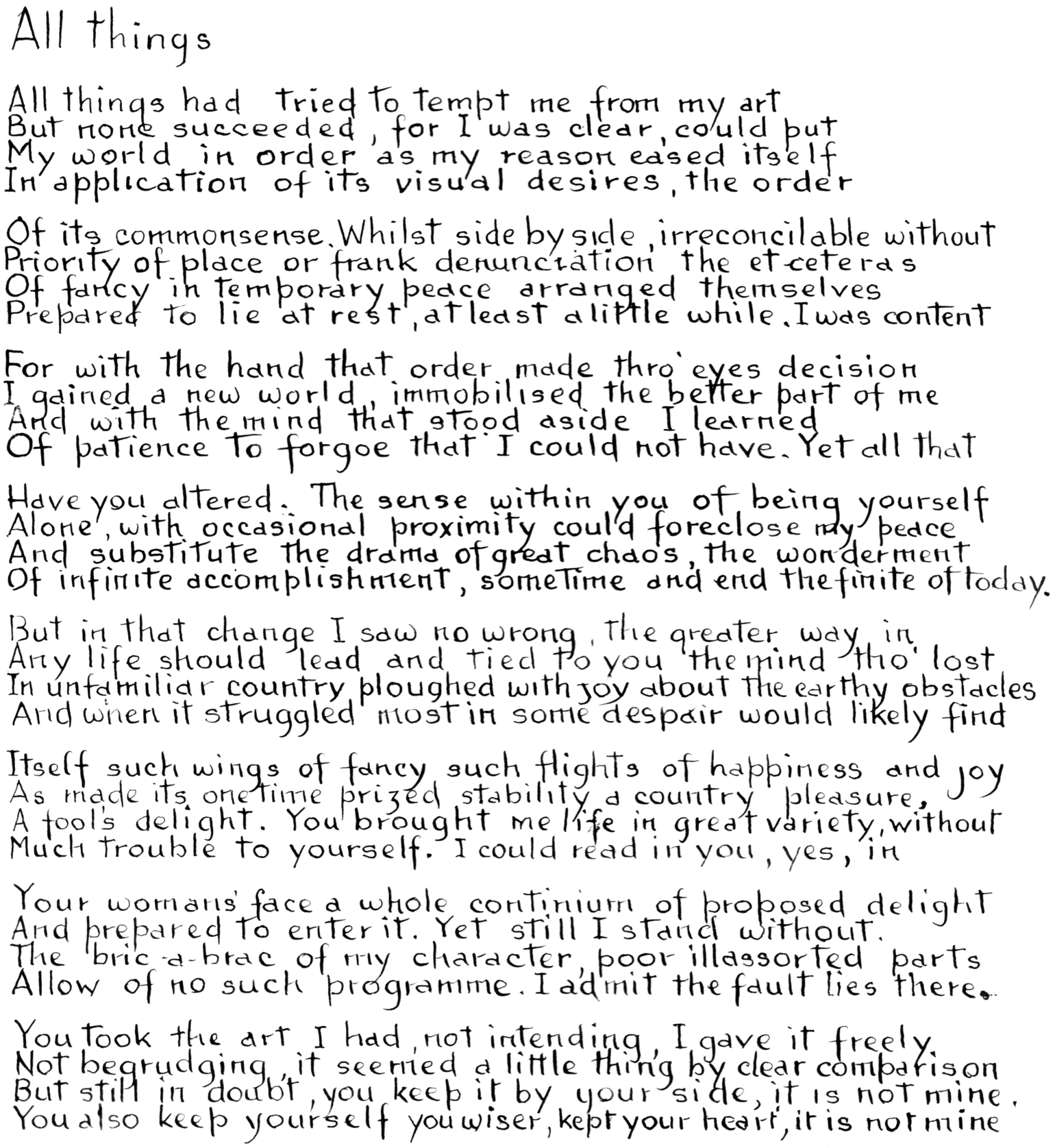 All Things
All things had tried to tempt me from my art
But none succeeded, for I was clear, could put
My world in order as my reason eased itself
In application of its visual desires, the order
Of its commonsense.  Whilst side by side irreconcilable without
Priority of place or frank denunciation, the et ceteras
Of fancy in temporary peace arranged themselves
Prepared to lie at rest, at least a little while.  I was content,
For with the hand that order made thro' eyes' decision
I gained a new world, immobilised the better part of me,
And with the mind that stood aside I learned
Of patience to forgo that I could not have.  Yet all that
Have you altered.  The sense within you of being yourself
Alone, with occasional proximity could foreclose my peace
And substitute the drama of great chaos, the wonderment
Of infinite accomplishment, sometime and end the finite of today.
But in that change I saw no wrong, the greater way in
Any life should lead, and tied to you the mind tho' lost
In unfamiliar country, ploughed with joy about the earthly obstacles,
And when it struggled most in some despair, would likely find
Itself such wings of fancy, such flights of happiness and joy
As made its one-time prized stability a country pleasure,
A fooI's delight.  You brought me life in great variety, without
Much trouble to yourself.  I could read in you, yes, in
Your woman's face a whole continuum of proposed delight
And prepared to enter it.  Yet still I stand without.
The bric-a-brac of my character, poor ill-assorted parts
Allow of no such programme.  I admit the fault lies there.
You took the art I had, not intending, I gave it freely
Not begrudging, it seemed a little thing by clear comparison
But still in doubt, you keep it by your side, it is not mine.
You also keep yourself, you wiser, kept your heart, it is not mine.